D•200 MKII
Class D Monoblock Amplifiers
State-of-the-art technology combine with with old-world craftsmanship in the D•200 MKII to produce one of the world's finest audio amplifiers.
$4,000 per pair
Features
Chassis Design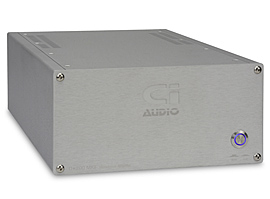 The monaural design is housed in a beautiful new machined aluminum chassis with heavy steel frame plate to support the massive power transformer. Non-magnetic stainless steel hardware and highest quality parts are used throughout. Adjustable 5-way binding posts are used for loudspeaker connection and can be configured for horizontal or vertical cable entry.
Power Management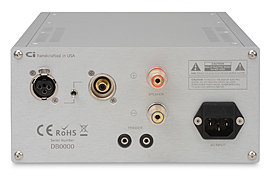 Our SmoothStart™ and XDC•2 circuits control AC power, while our DC board supplies the various output voltages required by the audio circuit. Signal input is handled by panel-mounted jacks for both single-ended RCA and balanced XLR connections. Turn-on is accomplished by the front-panel mute/play button, or remote 12v trigger (when used with PLC•1 MKII or other makes with this function)
Audio Circuit
The audio circuit consists of an advanced UcD design for life-like music reproduction and offers unsurpassed performance, reliability, and efficiency. Due to the large heat-sink area and high efficiency, D•200 remains cool to the touch even at continuous high output levels. Protection from over-voltage and short-circuit conditions are provided.

5 Year Warranty
Enjoy peace of mind with our comprehensive 5 year warranty. Full service information is included in the product manual.
Reviews
"Bass from the original D-200 was stunning; tight, fast, and extended. Yet the MkII offers more – both in quantity (extension and impact) and quality (bloom and pitch definition). They offer as much control, depth, punch, and visceral impact as ANY amps I've ever had in house…period.

If you have dreams of extended, not etched, detailed, not bright, delicate, not muted, and articulate, not harsh, high frequency performance, these amps will make that dream come true, and then some. I was so very taken with the way they are able reconstruct delicate treble detail, yet render it with such engaging finesse as well as spatial and textural authority."
"I am also most impressed with its no nonsense rendition of the human voice, male voices in particular can be an entrancing experience. The midrange may be analytical but it is no way a dry and emotionless presentation. The whole soundstage is airy with a wide spatial spread of instruments without the sound bunching up into a mess when it goes loud.'
Specifications
Power Output

200 watts @ 8 ohms/375 watts @ 4 ohms

Bandwidth

50kHz

Frequency Response

10Hz - 20kHz, +0dB/-0.5dB

Damping Factor

>1000

Input Impedance

100k ohms

Gain

32db or 26db

Dimensions

8.5"w x 4.0"h x 13.5"d

Weight

28 lbs (each)

Warranty

5 Year Parts & Labor
Purchase
Peace Of Mind
At CIAudio, we want you to be happy with your purchase. That's why all our products come with a 30 day in home trial period. If you're dissatisfied in any way, just return it and we'll refund the full purchase price minus a 10% restocking fee.
Direct Ordering
All our products are sold factory direct to bring you great value on top of the best personal service in the business. You can order online with the PayPal buttons or call us.