D•500 MKII
Class D Monoblock Amplifiers
Powerful and energy efficient, the D•500 MKII produces over 500 watts into 8 ohms and will drive your loudspeakers with authority, musicality and control.
$6,000 per pair
Features
Chassis Design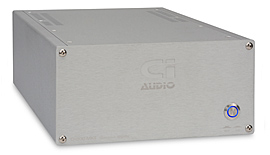 The monaural design is housed in a beautiful new machined aluminum chassis with heavy steel frame plate to support the massive power transformer. Non-magnetic stainless steel hardware and highest quality parts are used throughout. Adjustable 5-way binding posts are used for loudspeaker connection and can be configured for horizontal or vertical cable entry.
Power Management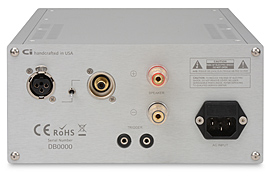 Our SmoothStart™ and XDC•2 circuits control AC power, while our DC board supplies the various output voltages required by the audio circuit. Signal input is handled by panel-mounted jacks for both single-ended RCA and balanced XLR connections. Turn-on is accomplished by the front-panel mute/play button, or remote 12v trigger (when used with PLC•1 MKII or other makes with this function)
Audio Circuit
The audio circuit consists of an advanced full bridge UcD design for life-like music reproduction and offers unsurpassed performance, reliability, and efficiency. Due to the large heat-sink area and high efficiency, D•500 remains cool to the touch even at continuous high output levels. Protection from over-voltage and short-circuit conditions are provided.

5 Year Warranty
Enjoy peace of mind with our comprehensive 5 year warranty. Full service information is included in the product manual.
Reviews
"…the D500 MKIIs could not only deliver a large soundfield, but they could deliver deep bass with power and control. …these amplifiers kept a lock on the pace, offering up wall shaking beats with no shrinkage of soundstage in either dimension.

Making the power hungry Magnepan 1.7's part of the equation was equally splendid. The D500 MKIIs took control of the Magnepans as well as some of the world's best amplifiers have – I can't think of an amplifier I would suggest more highly for someone looking to build a high performance system around the 1.7's (or the 3.7's for that matter) at a reasonable cost.

The Channel Islands D500 MKII amplifiers sounded great and made no missteps while in our care. We will be adding them to our reference fleet of amplifiers, so you will be hearing more about them in the months to come. I feel compelled to give these amplifiers one of our Exceptional Value Awards for 2011 as well – they represent tremendous performance and build quality. A well thought out product in every way."
"The Channel Islands Audio D-500 MKII amplifiers have made a huge difference in my mixes. The detail and clarity that they bring out, now allows me to hear problems and mix issues. I am extremely happy with how my mixes translate now like never before."

- Ross Hogarth, Double Grammy-winning producer/engineer/mixer at Hoax Productions
"The bass thunders when required. The mid range is rich in timbre and life-like. The more I listen using the D500s, the more I appreciate the beauty, depth and timbre of music made with just one or very few instruments.
The music at all levels is liquid, no friction, no compression. The mid range is much more open than on the old D200s."
"I have owned quite a few amps, and have heard many others, and I would place these up there with the best I have heard. These amps are very neutral and detailed, with an smooth and effortless quality that makes listening to them a real joy. Highly recommended!"
Specifications
Power Output

500 watts @ 8 ohms/800 watts @ 4 ohms

Bandwidth

50kHz

Frequency Response

10Hz - 20kHz, +0dB/-0.5dB

Damping Factor

>1000

Input Impedance

100k ohms

Gain

38db or 32db

Dimensions

8.5"w x 4.0"h x 13.5"d

Weight

28 lbs (each)

Warranty

5 Year Parts & Labor
Purchase
Peace Of Mind
At CIAudio, we want you to be happy with your purchase. That's why all our products come with a 30 day in home trial period. If you're dissatisfied in any way, just return it and we'll refund the full purchase price minus a 10% restocking fee.
Direct Ordering
All our products are sold factory direct to bring you great value on top of the best personal service in the business. You can order online with the PayPal buttons or call us.