E•200S 2-Channel (Stereo) Amplifier
Our E Series Amplifiers represent the latest in Class D amplifier technology.
$2,500
Features

Flat frequency response and phase into any conventional speaker load
Low distortion which is flat vs frequency
Ultra low output impedance for excellent control of the loudspeaker
High efficiency, which results in lower power consumption, low operating temperature, and high reliability
Compact & light weight package
Power Management

The internal design of the amplifier consists of a power control circuit consuming less than a 1⁄2 watt of power. When turned on, this circuit feeds dual mono switched-mode power supplies... one for each channel. The on/off function can be controlled by the front panel switch or via the 12V trigger input on the rear panel.
Audio Circuit
Input signals are connected via rear panel mounted RCA (single-ended) or XLR (balanced) jacks into individual differential pre-stage circuits with on-board regulation. Output of this circuit is then coupled to updated UcD Class D stages. These new & improved output circuits incorporate many advances found in the Hypex NCore technology.
Amplifier outputs are conveniently located on the rear panel. Speaker connections can be made in a variety of ways via the insulated 5-way binding posts.
The compact machined aluminum chassis provides heat dissipation for the direct-mounted power supply and audio output circuits. Due to the high efficiency of the circuits, the chassis will only be warm to the touch under normal conditions.
Protection
The E series amplifiers are equipped with a variety of fault protections including DC, over-voltage, and short-circuit. AC Mains Fuse protection is also provided and easily accessible above the power inlet.

5 Year Warranty
Enjoy peace of mind with our comprehensive 5 year warranty. Full service information is included in the product manual.
Specifications
Power Output

200 watts per channel @ 8 ohms (both channels driven)
400 watts per channel @ 4 ohms (both channels driven)

THD + Noise @ 1kHz

< .02% Max before clipping
< .006% at 1 watt

Phase Error

< 3° (20Hz~20kHz)

Input Impedance

100k ohms

Gain/Input Sensitivity

26dB/2.0V RMS (standard version)
32dB/1.4V RMS (high gain version)

Output Impedance

< .035 ohms (20Hz~20kHz)

Operating Voltage

120V Model (95~132V AC) 6A Mains Fuse
240V Model (185~260V AC) 4A Mains Fuse

Power Consumption

< 0.5 watts (standby), 32 watts (idle), > 90% efficient at rated power

Dimensions

14.0"W x 2.75"H x 10.0"D

Weight

8.5 lbs. (actual), 10lbs. (shipping)
Purchase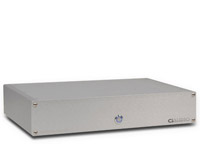 E•100S Coming Soon!
Peace Of Mind
At CIAudio, we want you to be happy with your purchase. That's why all our products come with a 30 day in home trial period. If you're dissatisfied in any way, just return it and we'll refund the full purchase price minus a 10% restocking fee.
Direct Ordering
All our products are sold factory direct to bring you great value on top of the best personal service in the business. You can order online with the PayPal buttons or call us.