PEQ•1 MKII MM/MC Phono Preamplifier
Channel Islands Audio is proud to announce the release of our long-awaited PEQ•1 MKII MM/MC Phono Preamplifier
$995
Features
Ultra-Low noise
Ultra-Low harmonic & intermodulation distortion (THD/IMD)
Dual-Mono Design for low crosstalk
Heavy steel faraday cage for high resistance to electromagnetic and radio frequency interference
Rear panel DIP switches for convenient configuration & adjustment
5 Year Warranty
Handcrafted in USA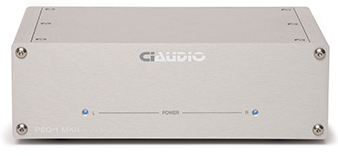 The PEQ•1 is a versatile design offering outstanding performance with a wide variety of phono cartridge types.
This new dual-mono design is aimed at music lovers seeking the utmost life-like performance from their vinyl collection. Dynamic and detailed, yet smooth and rich, with soundstage and imaging to create realism rarely heard.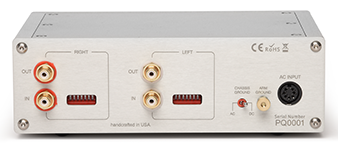 Power
The internal design of PEQ•1 starts with a dual AC input (one for each channel).
 When the outboard power supply is connected, the AC is fed to two independent filter/regulation circuits (1 per channel). These circuits feed the L & R audio stages with ultra-low noise on par with the best battery technologies, and without the inconvenience. There is also a Chassis Ground switch to optimize chassis shielding.
The standard AC supply is an AC wall adapter type with a single winding feeding the L&R circuits.
This supply is 120V input only.
Countries with 220~240V mains must use the AC·15 MKII Upgrade Supply.
The AC·15 MKII Upgrade Supply Features:
Large Toroidal Transformer with dual outputs (1 per channel)
AC Line Filtering
Dual common-mode choke filtering (1 per channel)
120V/240V Selectable Input Voltage
Rear Panel Power Switch
Detachable AC Input & Output cables
Audio Circuit
Input signals are connected via highest quality Cardas™ panel-mounted RCA jacks. The input jacks are routed to two independent mono circuits of identical layout. This assures exact performance from both channels and reduces crosstalk.
Circuit topology consists of an input gain stage with selectable resistive load, capacitance, gain, and subsonic filter. This gain stage is followed by a passive high frequency cut, then an active bass boost to create the RIAA equalization curve, then to the output jacks.
Careful layout yields a very short signal path from input to output, and a combination of star grounding power supply components/ground plane for the audio circuits, result in a silent background and immunity to EMI/RFI pickup. The entire circuit board is then housed in a heavy steel faraday cage to further reject outside interference, then inside the attractive aluminum outer chassis.
Highest quality components are used throughout:
Cardas™ jacks, Nichicon Muse™ NP power supply capacitors, Vishay™ 2% Polypropylene signal and bypass capacitors, Takman™ metal film & carbon films resistors, and Grayhill™ switches.

5 Year Warranty
Enjoy peace of mind with our comprehensive 5 year warranty. Full service information is included in the product manual.
Specifications
RIAA Accuracy:

+/- 0.2 dB

THD + Noise:

< .002% (1kHz Unweighted/45dB gain/10mV)

IMD:

< .002% (SMPTE)

Crosstalk:

> 108dB

Cartridge Loading:

Resistance: 47KΩ • 10KΩ • 1Ω • 100Ω
Capacitance: 100pf • 270pf • 370pf

Gain:

45dB • 60dB

Subsonic Filter:

-3dB @ 18Hz

Output Impedance:

100 ohms

Operating Voltage:

120V AC Input • 14V AC Output (Standard Supply)

Power Consumption:

-< 4.0 Watts

Dimensions:

8.50"W x 2.75"H x 6.50"D

Weight:

8.0 lbs. (actual), 9.0 lbs. (shipping)

Options:

AC•15 MKII Upgrade Power Supply
* Selectable 120/240V AC Input Voltage
* 2 x 14V AC Filtered Output Voltage

Warranty

5 Year Parts & Labor
Purchase
Peace Of Mind
At CIAudio, we want you to be happy with your purchase. That's why all our products come with a 30 day in home trial period. If you're dissatisfied in any way, just return it and we'll refund the full purchase price minus a 10% restocking fee.
Direct Ordering
All our products are sold factory direct to bring you great value on top of the best personal service in the business. You can order online with the PayPal buttons or call us.