PLC•1 MKII
Remote Passive Line Controller
Volume, mute, inputs and tape monitor at your finger tips. The PLC•1 MKII is the ultimate passive audio system controller.
$995
Features
Control at your fingertips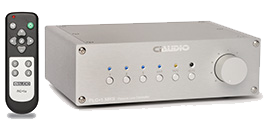 Our new PLC•1 MKII Passive Line Controller is the ultimate passive audio system controller, offering unsurpassed sonic purity, flexibility, and convenience.
The RC•1a Remote Control system allows for complete control without ever leaving your listening chair. Volume, Mute, Input scroll (up/down), Tape Monitor, and direct access to any input are at your fingertips. A 12v trigger output can also be controlled by the remote to turn on/off other devices (amplifiers, etc.)
Route your audio where you need it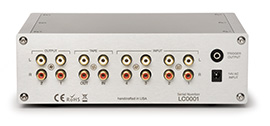 Four standard audio inputs and a tape loop allow for up to five audio sources. The fourth input can be internally configured as a Home Theater Bypass Input. Input display uses sequentially illuminated blue LEDs for easy identification from across the room, and an orange LED for tape monitor. Two pair of output jacks are provided for bi-amping, sub-woofers, etc.
Premium parts and construction
Audio signals are switched by highest quality relays with gold-plated contacts, then fed to a custom ALPS® Blue Velvet motorized potentiometer. Circuit boards are gold-plated and assembled with lead-free silver solder for best conductivity. Our beautifully custom machined aluminum chassis, knobs, stainless steel hardware reflect the quality of circuitry inside, and remote functions are duplicated on the front panel for maximum convenience.

5 Year Warranty
Enjoy peace of mind with our comprehensive 5 year warranty. Full service information is included in the product manual.
Reviews
"Sonically, the PLC-1 draws little attention to itself. It's such a reserved-sounding piece, I did not find myself being drawn unduly to just one segment of the frequency spectrum… The PLC-1 retrieved the vocals in a most satisfactory fashion. If a person has quite a number of older discs where vocals are prominent, then I would suggest mating the PLC-1 and D-200's with a warmer sounding CD player, since the Channel Islands gear will bring plenty of focusing power."
Specifications
Audio Inputs

4 pairs standard (one of which can be configured as HT bypass)
1 pair tape

Audio Outputs

2 pairs variable
1 pair tape (fixed level)

Accessory Outputs

12v DC Trigger

Potentiometer

10k ohm ALPS Blue Velvet (motorized)

Remote Control Range

30 ft

Power Supply

14v AC/850mA

Dimensions

8.50"w x 2.75"h x 6.50"d

Warranty

5 Year Parts & Labor
Purchase
Peace Of Mind
At CIAudio, we want you to be happy with your purchase. That's why all our products come with a 30 day in home trial period. If you're dissatisfied in any way, just return it and we'll refund the full purchase price minus a 10% restocking fee.
Direct Ordering
All our products are sold factory direct to bring you great value on top of the best personal service in the business. You can order online with the PayPal buttons or call us.