VAC•1
High Current Power Supply
Upgrade your CIAudio source components with the VAC•1. This power add-on brings improved bass definition, dynamics and noise performance.
$199
Features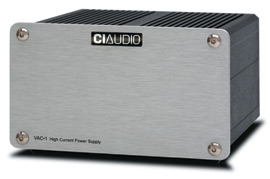 Our VAC•1 is the perfect upgrade for our source components. The upgrade yields improved bass definition, dynamics and noise performance. Available in 120v and 240v input voltage (selectable by solder-in jumpers). IEC type AC socket for use with aftermarket power cords. AC input and output cables included.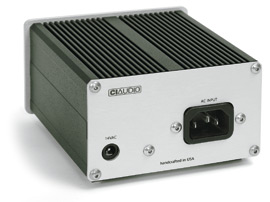 VAC•1 is compatible with the following CIAudio Products:
VDA•1 24bit/96k Digital/Analog Converter
VDA•2 24bit/192k Digital/Analog Converter
VPP•1 MM/MC Phono Preamplifier
VHP•1 Headphone Amplifier
VHP•2 Headphone Amplifier
Reviews
"Seriously though, whether you have the VHP-1 or 2, I feel the power supply is essential. It really takes this amp to a much higher level. Transient slam is better, and the bass is definitely a lot punchier. What I really enjoy about adding the power supply is that it is a big jump in performance the minute you plug it in, you won't be struggling to hear what you spent another $160 on. "
"The VHP•1's already impressive bass response became even more powerfully solid with the heavy-duty power supply. Not deeper, simply more physical… This was no small improvement, but it wasn't the biggest change the VAC•1 wrought. That would be its increase in dynamic contrast… With the VAC•1 powering the amp, there was more contrast between music and silence: where there was music, it seemed as if there was more of the stuff it was made from."
Specifications
AC Input Voltage

120/240VAC

Output Voltage

14VAC @ 1.44 Amps

Accessories

IEC Type AC Cable, AC output Cable

Dimensions

4.40"w x 2.65"h x 4.40"d

Warranty

1 Year Parts & Labor
Purchase
Peace Of Mind
At CIAudio, we want you to be happy with your purchase. That's why all our products come with a 30 day in home trial period. If you're dissatisfied in any way, just return it and we'll refund the full purchase price minus a 10% restocking fee.
Direct Ordering
All our products are sold factory direct to bring you great value on top of the best personal service in the business. You can order online with the PayPal buttons or call us.