VDA•2
24bit Digital to Analog Converter
Digital to Analog audio conversion like you've never heard it before. The VDA•2 uses unique filters and a low jitter receiver to produce natural sound.
$599
Features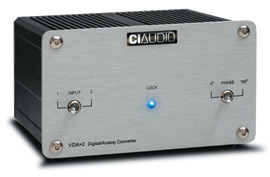 Our new VDA•2 takes Digital to Analog audio conversion to a new level. Traditional DAC designs use brick-wall digital filters, usually followed by more analog filtering to reduce sampling noise, but cause signal degradation in the process. Another approach has been to use no filtering at all, but this adds noise to the analog signal. Both of these designs have their strengths and weaknesses, but neither tends to be a good trade-off. Our design uses only a mild "slow roll-off" digital filter and first order analog filter to tame the sampling noise. This architecture has reduced filtering artifacts compared to brick-wall types, and lower sampling noise than filterless types, resulting in a more "analog" sound.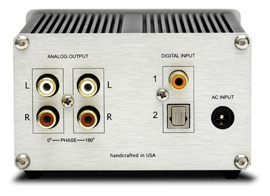 Digital input signals are accepted by Toslink optical or coaxial SPDIF, then fed to the CS8416 24 bit/192k low jitter input receiver, then to the Burr Brown PCM1794 balanced/current output DAC. Our unique output stage is a fully discrete/zero feedback design and uses only a single transistor per output to insure the purity of the audio signal. Circuit board is high quality 2 oz. copper with lead-free silver solder construction.
Input selection and digital domain phase are selected by convenient front panel switches, and an LED indicates "LOCK" when a valid signal is being received.
Balanced Output
The output arrangement allows for 2 pair of single-ended connections or a single pair of balanced outputs (with optional VRX•1 cable pair). An external 14vAC power supply is included.
$159
Reviews and Awards
"I really enjoyed endless hours of fatigue free listening sessions, and differences between various recordings were very apparent."
"If you want amazing digital playback on a shoestring, the Channel Islands VDA•2 is the ticket. It's only drawback is that it does not have a USB input. But, if you just need to make an existing transport or the Wadia i170 sound fab, ignore this mighty mite at your peril."
"I must say that in terms of sheer audio performance, the VDA•2 offers up some of the most musically revealing and tonally pleasing sound from a digital source I've heard at anywhere near this price… I defy you to find significantly better at 2-3 times the price. With the additional power supply, you are going to have to spend upward of 3-4000 dollars to get a significant jump in sound quality."
"The VDA•2 is sublimely refined and natural with no emphasis on any part of the frequency spectrum. Highs soared and shimmered with no digital harshness, vocals are clear and present (not laid back or forward, just right) and the bass is tight, tuneful and deep. For me it is the answer to the overpriced and over-hyped nonsense that is out there."
Specifications
Inputs

Toslink Optical, Coaxial SPDIF

Locking Frequencies

44.1k-192k (Coaxial), 44.1k-96k (Toslink)

Frequency Response

20Hz-20kHz +/- 0.1db

THD

<.03% 20Hz-20kHz

Output Level

2.25vRMS (Single-ended), 4.5vRMS (Balanced)

Dimensions

4.40"w x 2.65"h x 4.40"d

Warranty

1 Year Parts & Labor
Purchase
Peace Of Mind
At CIAudio, we want you to be happy with your purchase. That's why all our products come with a 30 day in home trial period. If you're dissatisfied in any way, just return it and we'll refund the full purchase price minus a 10% restocking fee.
Direct Ordering
All our products are sold factory direct to bring you great value on top of the best personal service in the business. You can order online with the PayPal buttons or call us.