VDC•12 MKII Upgrade Power Supply
We offer a variety of linear upgrade power supplies to improve performance of many products… Wadia, Sonore, SqueezeBox, DSPeaker to name a few.
$329
Features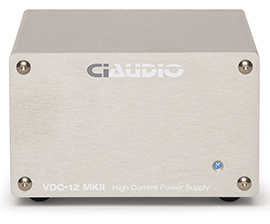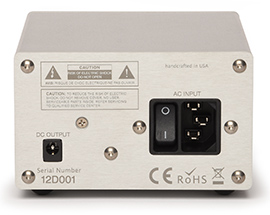 Key features include:
Low Noise 35VA EI Core Transformer
High Quality Schurter switched IEC Power Inlet
Schottky Bridge Rectifier Diodes
Over 20,000uF of filter Capacitance
Polypropylene bypass capacitors
Selectable 120/240V Input Voltage
All models come standard with AC mains cable and 2.5mm~2.5mm output cable & 5 year warranty.

We also carry a variety of custom cables and adapters. Call or email us for compatibility with your product.

All supplies are fully regulated and available in the following voltages:
VDC•5 MKII       5.0V @ 2.5A
VDC•7 MKII        7.0V @ 2.0A
VDC•9 MKII        9.0V @ 1.5A
VDC•12 MKII      12.0V @ 1.0A

Specifications
AC Input Voltage

120/240V AC (User-Selectable)

Output Voltage

12.0V DC @ 1.0A

Accessories

IEC Input Cable, Output Cable (Transient MKII / Squeezebox Touch)

Dimensions

4.45"W x 2.9"H (including feet) x 5.25" D

Shipping Weight

5 lbs

Warranty

5 Year Parts & Labor
Purchase
Peace Of Mind
At CIAudio, we want you to be happy with your purchase. That's why all our products come with a 30 day in home trial period. If you're dissatisfied in any way, just return it and we'll refund the full purchase price minus a 10% restocking fee.
Direct Ordering
All our products are sold factory direct to bring you great value on top of the best personal service in the business. You can order online with the PayPal buttons or call us.