VPC•3
Passive Controller
Performance meets flexibility with the The VPC•3. Add volume control and input selection to your system without additional gain for the purest signal.
$299
Features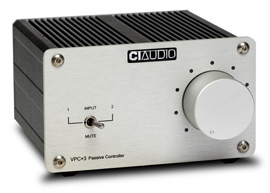 Our new VPC•3 Passive Controller is a simple audio volume control/input selector, yet offers great performance and flexibility. Audio purists have recognized most signal sources, outboard DACs, and Phono preamps, have plenty of signal to drive an amplifier directly, without passing through another active gain stage, which adds distortions and coloration.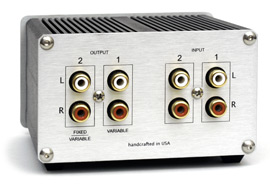 Similar to it's predecessors VPC•1 and VPC•2, the new version is equipped with 2 pair of inputs and a front panel switch for selection of "Input 1", "Mute" and "Input 2". A second pair of outputs have been added for increased flexibility. The main pair are variable through the volume control, while the 2nd pair can be internally configured as another variable pair for bi-amping or use with a powered subwoofer, or can be configured as a fixed level output. This allows the selected input to be sent to a recording device or second system.
Our new ALPS® Blue Velvet precision potentiometer uses offers excellent sound quality, channel to channel tracking, and long life. Careful design layout using 2 oz. copper circuit board, silver solder construction, and short signal path are used for best conductivity and optimum performance. All jacks, switches, and jumpers are high quality with gold plated contacts.
Specifications
Audio Inputs

2 pairs standard

Audio Outputs

2 pairs - one variable, one selectable variable / fixed

Potentiometer

ALPS Blue Velvet

Dimensions

4.40"w x 2.65"h x 4.40"d

Warranty

1 Year Parts & Labor
Purchase
Peace Of Mind
At CIAudio, we want you to be happy with your purchase. That's why all our products come with a 30 day in home trial period. If you're dissatisfied in any way, just return it and we'll refund the full purchase price minus a 10% restocking fee.
Direct Ordering
All our products are sold factory direct to bring you great value on top of the best personal service in the business. You can order online with the PayPal buttons or call us.